I'm sure you've guessed it by the title of this post, yep my little man has started teething. At only 3 months old he's got the tell tale signs of red, glowing cheeks, iritability, crying for no apparent reason, chewing on everything and probably the most obvious excessive drooling. Now I don't think he's anywhere near to sprouting his first pearly white, but for anyone who's suffered from widom tooth pain you'll know just how painful it can be before there's even anything to show for it. So I thought that I'd type up this post to let you know what I've found useful in the past month, and perhaps help to jog my memory when Baby #2 comes along.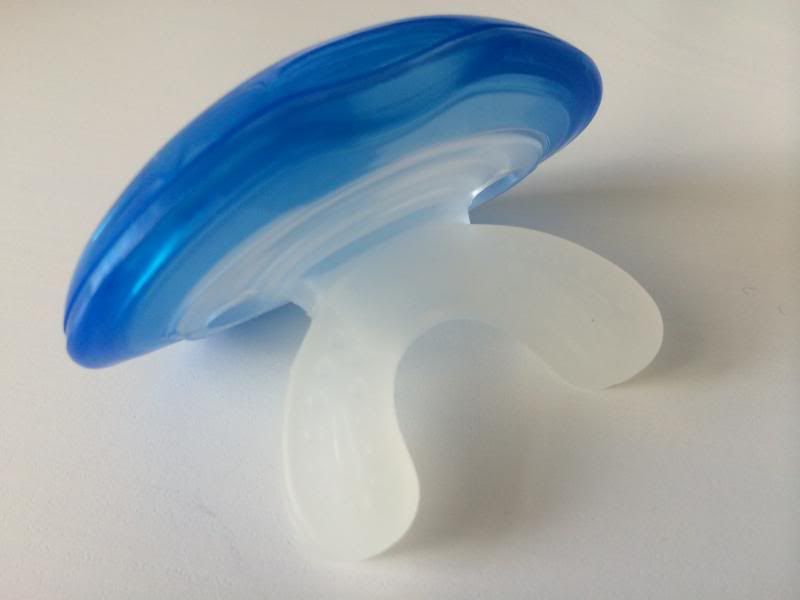 Tommee Tippee Closer to Nature Teether Stage 1
- Standing in front of the teething range in Boots was definitely a little daunting and I was a little hesitant to pick this up as I'd never heard anything about it, good or bad, and I'll admit that it does look a little gimmicky. But I'm glad I parted with my money on this one as it's worked wonders.
The company claims that the textured surface massages tender gums, the suface is also comfortable for baby to bite and it has channels designed to hold teething gel. I can't say how great this massaging action is but I can say that Myles loves a good chomp on this thing. Yeah I'll admit that you could just let baby have a gnaw at your finger and yes I do alternate between this and the teether but it's great when your fingers have turned all prune like. The channel for teething gel I'm also a little dubious about but it is great to apply the teething gel to and definitely soothes his little aching gums, I'm just not sure the "channel" is really neccessary.
It's not something I use daily or even something Myles wants to use at times but when he's really suffering this little thing works a treat. The shape of the dummy fits Myles' mouth brilliantly and it really is easy to apply teething gel too without it instantly slipping off the gums and for prices averaging at around £4 for 2, you can't really go wrong.
Bright Starts Senses Soothe-a-Bee Teether
- Any teether or teething ring will do, as long as baby can hold onto it and can have a chomp down when those pesky teeth are at their worst. The Soothe-a-Bee just happens to be the one that we picked up, or should I say his wonderful Grandma picked up for him.
The textured wings on this teether are designed to soothe the babies gums and I have to admit that these are where Myles like to bite down, but he is also rather partial to munching away at the black and white handle as it fits a little easier into his mouth.
All in all this has been a great little buy. He seems to love the brightly coloured design and can easily hold it on his own (though he does prefer a little help) so I also believe that it's helped with his hand eye coordination.
Pain Relief
Calpol
- I opted for the original version of this over the Sugar or Colour Free versions but ultimately the choice is up to you and what's best for your child, they all do the same job in the end. Calpol contains Paracetamol which reduces fever but is also a great overall pain killer. I only use this as a last resort as I really don't like to give oral analgesic, but when I know that it'll ease his suffering then that's ok in my book.
Bonjela Teething Gel
- There are many different brands of teething gels on the market but I chose Bonjela for the familiar name. To be honest they all contain the same active ingredient, lidocaine which is a numbing agent to help soothe those tender gums. So a cheaper brand would work as well as the more expensive brands out there, if you're looking to save a few pennies, and who isn't?
These teething gels aren't very long lasting but are extremely fast acting. I probably wouldn't recommend them for long term use but it does make the difference between a baby not sleeping due to sore gums to a sleepy baby getting a little shut eye from a few minutes of soothed gums.
Ashtons and Parsons Teething Powders
- These are probably one of the most popular items to relieve teething pain on the market. When these come in stock they fly of the shelf. Mother's swear by them. We're currently in the trial stage of these so I wouldn't say they're at the top of my must have list but they have definitely helped. All you do is sprinkle the granuals onto the babies gums and voila! And if so many Mums swear by them, then they deserve a mention in this post.
I normally always provide amazon links on my blog as I know it's probably the most easily accessible site for everyone, but when it comes to medicinal items I don't particularly trust them. So due to this the links I've provided for the baby pain relief will take you to Boots who I most definitely do trust. Also please always check the age restrictions for these items and the dosage as many products are not suitable from birth.

Finally the number 1 teething must haves that blows all the others out of the water are Mummy Cuddles! Nothing beats Mummy cuddles when there's a poorly baby. Sometimes being rocked to sleep is the only way. Ironically I'm typing this post while rocking poorly baby only proving my point further.