Easter seems so far away now but I thought I'd still share with you guys the few goodies we received. Now Easter to us isn't about eating tons of chocolate or sharing lavish gifts but more about spending quality time with the people you love. As I mentioned in my previous post, where I show you just how super cute my son is haha, we have Sunday lunch at my parents house. My Mum treated Myles to a cute little egg cup in the shape of a chicken. It may be a fair few years until he can use it but I still love it and it's already taken pride place in his bedroom.
Every year my Nanna always makes Easter Bonnets, which are basically a digestive buiscuit topped off with a marshmellow and dipped in icing. Yum-my. I forget about these every year but once they get handed to me I do a little giddy dance. She even made Myles his very own one, and since I'm breastfeeding once I eat it he gets to try it too, so win/win really.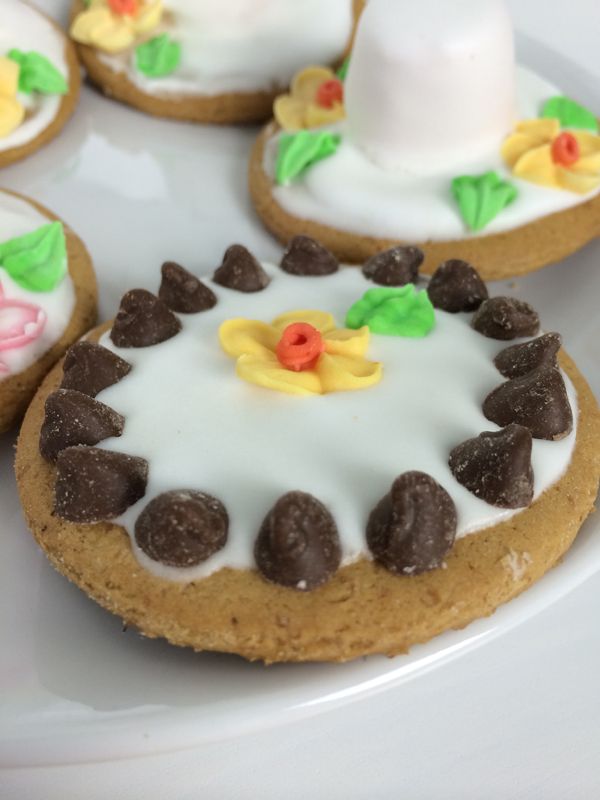 Other than that Myles received some cute socks from both his Auntie and my Nanna. You can never have enough socks! And Mike and I received an Easter egg to share, which obviously is long gone now. I don't know what it is about Easter Eggs but they have got to contain the best chocolate ever. It's a good job they aren't sold all year long or I would definitely look like one.
It wasn't until the day that I realised that I hadn't bought Myles anything for Easter, not even a little bunny, but I'm sure he still knows that I love him and I doubt he'll hold it againts me. Fingers Crossed. haha.