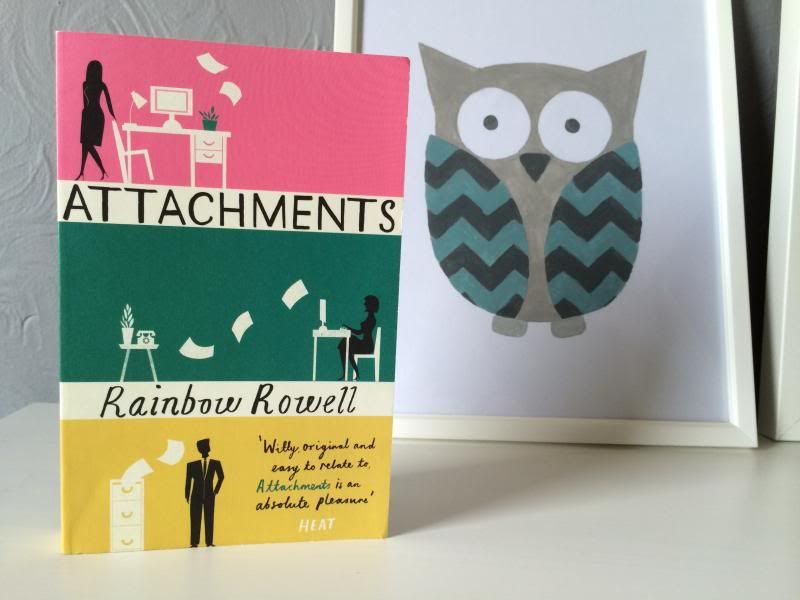 I'd been rather curious about Rainbow Rowell's work since news of her books exploded all over BookTube and have wanted to get my hands on one ever since. Though I'm a huge fan of Young Adult fiction I picked up her adult novel Attachments first as I was intrigued by the concept and boy I was not disappointed.
Attachments is a clever, witty and addictive read following Lincoln who monitors work based emails for a living. One day the computer's security system flags up a series of emails between Jennifer and Beth which contains anything but work related information. Though Lincoln should report the emails he instead gets drawn in and their witty banter quickly becomes part of his every day routine.
Jennifer and Beth's daily conversations had me laughing from page one. Their own personal stories were so normal but so completely intriguing. Their friendship was so warm and comforting but also at times, hilariously blunt. What I found interesting upon refection was that this book is only written from one perspective, Lincoln's. Jennifer and Beth's stories weren't being told by them, but were in fact told only through Lincoln reading their emails. Though this may be blatantly obvious to some, for me I was so wrapped up in the story that it was hard for me to withdraw myself long enough to notice. Relating to why Lincoln had become so engrossed into the pairs lives were so easy because the same had happened to me.
Lincoln's character was loveable but for reasons unknown. Yes he was a likeable character but still one that if you met you would only say hi to. He still lived a home, with his mother still packing his lunch for work and he still played board games with his now married friends at the weekend. Your expectations for this character were pretty low, which is why I guess falling in love with him crept up on you.
Now the first half of this book was pretty slow with a lot of character development. But what I found strange was that though it felt slow I could not put it down. Then midway through we hit a turning point where I fell head over heels in love with it. I remember turning to my husband saying, "this book just got adorable." From here on out the pacing was fast, though I am still unsure as to whether this was due to the plot or the characters, but either way I didn't want to stop reading.
I gave it 4 out of 5 stars. I wish that I could have given it 5 but unfortunately the pacing of the first half was an issue for me, and though I wouldn't know what to change to speed it up, it's just not something that I can get over.
Overall Attachments is such an enjoyable read. If you like contemporary with witty characters and posses the attributes of an hopeless romantic then this is the book for you.