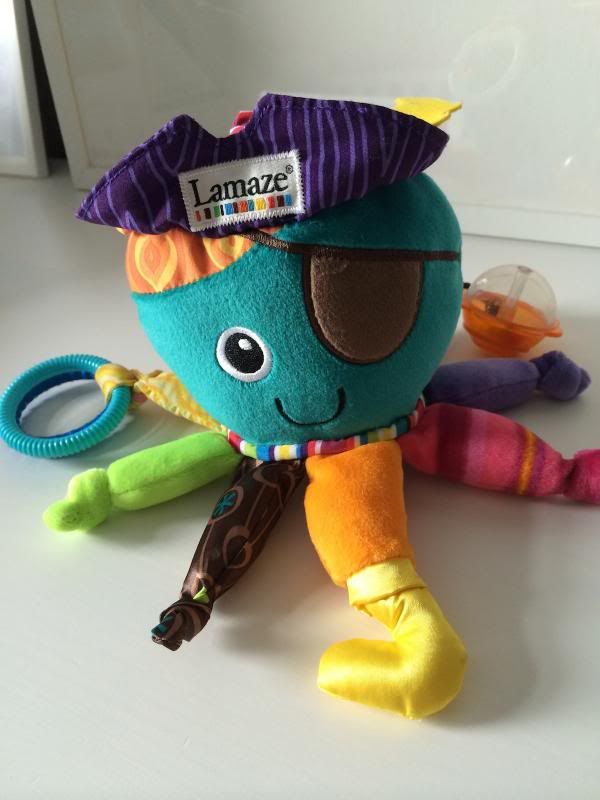 It turns out that I'm a huge fan of Lamaze products. If I look around at Myles' toys their brand stands out clearly above the rest. I just love how bright and colourful they are and how fun they appear, so with this in mind I thought I'd share my opinions on their very popular Captain Calamari.
A bit of background information on our situation: My son Myles is 4 months old as I write this review and we bought Captain Calamari while I was still pregnant.
Firstly I love how all Lamaze toys have distinctively fun and unique names. I've not noticed this from any other brands and though I know my son doesn't notice this yet, I rather enjoy it.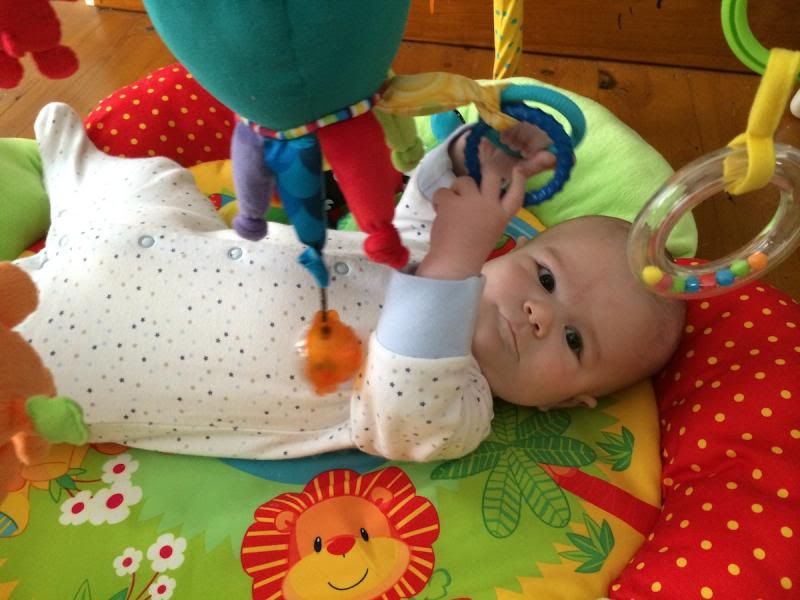 We've had Captain Calamari attached to Myles' car seat for as long as I can remember but he didn't start playing with it until he was about 8 weeks old, though he did enjoy enjoy staring at it way before this time. I feel that the bright colours are particularly attractive to smaller babies.
The day that Myles started to play with Captain Calamari was when we attached it to his playmat. From that day on we've never looked back. It's quickly became his favourite toy that keeps him entertained whether it be on a long car ride or when I need to get a little housework done. I also find that the clips attached to the top are very useful for easily adding it to car seats, pushchairs and even playmats.
Captain Calamari has 8 tentacles (obviously) each with a different texture or pattern. Some have a crinckle texture which produces sound, others are soft and squid-gy (don't mind the pun.) Myles' favourite features seem to be the tentacle with two rings attached which always finds it's way into his mouth and the tentacle with the ball attached. We always hear this first when Myles wakes on car journeys as he bats in around rattling the balls inside.
I adore the bright colours and textures and I feel that it would make a great addition to any babies collection regardless of gender. I also feel that the toy will grow with the child. When Myles was really small he would watch the toy, now he tugs and plays with it and I'm just waiting for the day when he finds the mirror under all the tentacles. For the retail value of £9.99 it's also a great price for such a good quality product, and what's best is that Lamaze products are usual on some sort of offer so you can generally get them cheaper.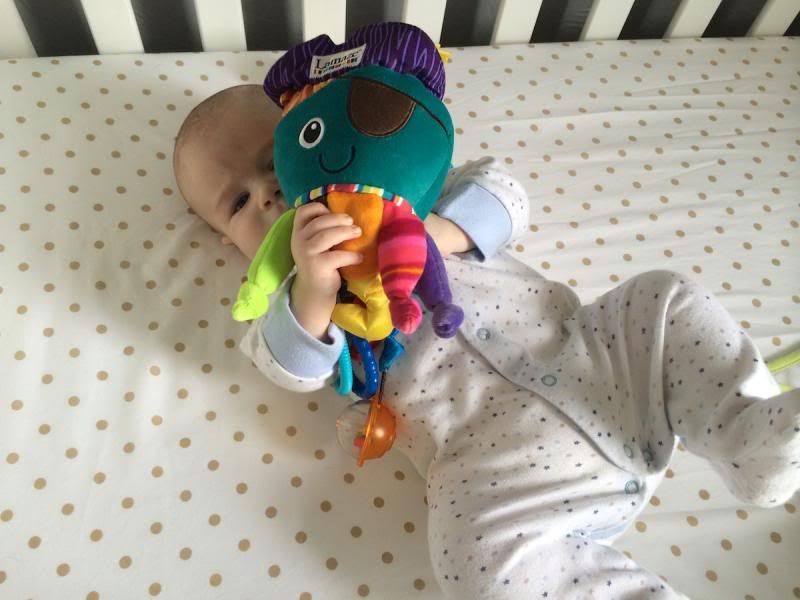 Overall I definitely recommend this product as it's lived up to all my expectations and beyond.